Help cortex cut his hair, fundraising edition. September 2, 2020

11:34 AM

Subscribe
My hair is too long! Something's gotta be done! So, here's the deal:
for every new $50 in monthly recurring contributions
to MetaFilter we see in September, I'll cut an inch off. I've got about 14 inches of hair right now, so we've got a lot of ground to cover. Come inside to track my progress with the patent-pending MetaFilter Hair-O-Meter.
Behold, the Hair-O-Meter!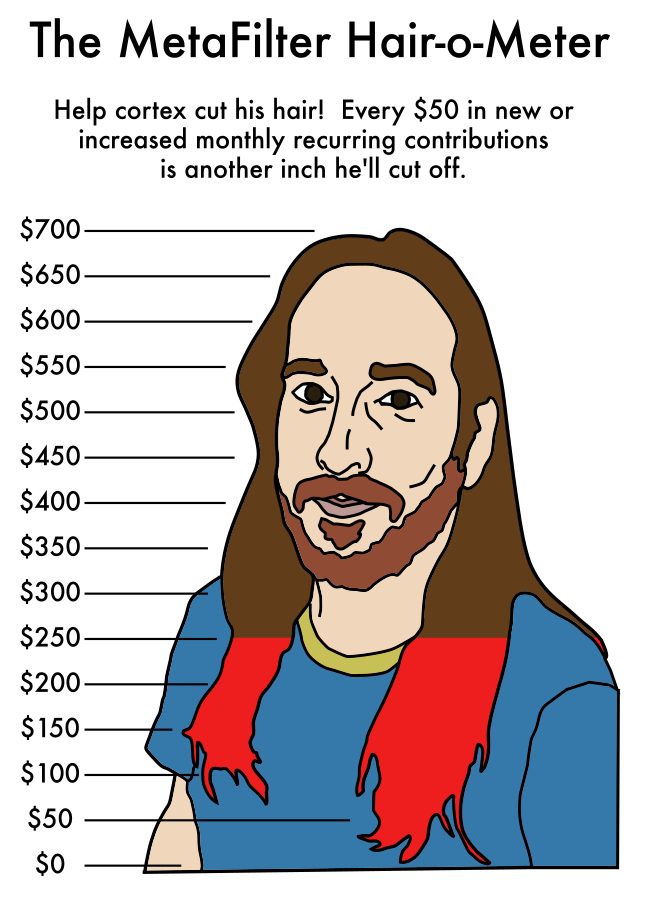 I'll update the Hair-O-Meter image and new recurring contribution total periodically throughout the month.
We are (as of 11:59 p.m. Aug 31st) currently at: $0 new monthly contributions
I currently get to keep: 14 inches of hair
I currently resemble: a dang hippie
We are (as of Thurs, September 10) currently at: $250 new monthly contributions
I currently get to keep: 9 inches of hair
I am looking forward to: a crisp cut just brushing my shoulders